Nothing says "tiki" like a drink served in a tiki mug with an extravagant garnish. I always like to incorporate one drink served in a tiki mug into my tiki party cocktail rotation. This is your chance to go all out on the garnish—the more the better as far as I'm concerned! Because the drink is served with a straw, you can really load it up and not worry about pineapple chunks plopping out when your guest takes a sip.
The Thurston Howl is a wonderful concoction ripped from the pages of Imbibe magazine (May/June-2009). It makes wonderful use of Tangueray's Rangpur gin—which is heavy on the lime—and pairs well with the Appleton rum and the Paul Masson brandy. This is a delightful concoction to sip on a warm summer day. Plus, the name always brings a smile to people's faces.
Thurston Howl
1 oz Appleton Estate V/X rum
1/2 oz Paul Masson Grande Amber VSOP brandy
1/2 oz Tangueray Rangpur gin
2 oz pineapple juice
1/4 oz grapefruit juice
2 oz papaya nectar
1/4 oz Trader Tiki's cinnamon syrup
1/2 oz ginger syrup
Fill a shaker full of ice. Add the rum, brandy, gin, juices, nectar and syrups. Cap the shaker and shake vigorously for 15-20 seconds. Pour into a tiki mug. Garnish with pineapple, cherries, cinnamon stick and a hibiscus flower.
Making garnishes should be fun—so take your time. You can pre-make your garnishes right before your party so that you don't feel rushed when your making drinks. Be careful when using flowers as garnishes because you don't want to use flowers with pesticides on them. I like to grow my own flowers for garnishes since I know that they're not treated with anything.
There is no better way to end your tiki party or just an evening of tropical food and drinks than with a dessert cocktail. Personally, I'm happy with a glass of aged demerara rum, but some people prefer something more dessert-like. And nothing says dessert more than chocolate.
The Hawaiian Island Dream is a Viva La Cocktail creation that captures the flavors of Hawaii in a dessert drink—coconut and macadamia nut. Add a little white chocolate liqueur and vanilla vodka, and you have a heavenly concoction that will have you dreaming of Hawaiian nights.
Hawaiian Island Dream
1 + 1/2 oz Cruzan Coconut Rum
1 + 1/2 oz Stoli Vanil vodka
1/2 oz Godiva White Chocolate Liqueur
1/2 oz Kahana Royale Macadamia Nut Liqueur
Fill a shaker full of ice. Add the rum, vodka, white chocolate liqueur and macadamia nut liqueur. Cap the shaker and shake vigorously for 15-20 seconds. Strain into a chilled martini glass. Garnish with toasted coconut.
If you can't find macadamia nut liqueur, you can substitute Frangelico Hazelnut Liqueur.
Here's a fantastic new cocktail based on traditional tiki drink ingredients: demerara rum, lime juice, cinnamon and honey. This recipe is in the January/February issue of Imbibe magazine, and was developed by Martin Cate of Smuggler's Cove in San Francisco.
Center of the Galaxy
2 oz El Dorado 12 Year Old demerara rum
1/4 oz Chambord black raspberry liqueur
1/4 oz fresh lime juice
1/2 oz demerara syrup
1/2 oz honey syrup
1 small pinch cinnamon
Fill a shaker full of ice. Add the rum, raspberry liqueur, lime juice, syrups and cinnamon. Cap the shaker and shake vigorously for 15-20 seconds. Double strain into a chilled coupe glass. Garnish with a raspberry lime wheel.
I am a huge fan of demerara rums. They are aromatic and pungent like Jamaican rums, but are also drier and smokier giving them a very distinctive flavor. The aged demerara rums (like El Dorado 12, 15, 21 and 25 year) are lovely on their own as sipping rums, but the younger ones really shine in tiki drinks like a Demerara Dry Float, Queen's Park Swizzle and the Center of the Galaxy. Demerara rum also comes in 151 proof for higher-octane cocktails such as the 151 Swizzle, which is also a favorite of the house.
I came across this variation of a Piña Colada in the July/August issue of Imbibe magazine. What I like about it is that the recipe uses coconut sorbet instead of the sticky-sweet cream of coconut, producing a drier and lighter cocktail. Just make sure you use a good quality white rum and fresh juice.
Sorbet in the Sun
2 oz Flor de Cana Extra Dry white rum (4 year)
1 oz fresh pineapple juice
1/2 oz fresh lime juice
1 (small) scoop softened coconut sorbet
Fill a shaker full of ice. Add the rum, pineapple juice, lime juice and coconut sorbet. Cap the shaker and shake vigorously for 15-20 seconds. Double strain into a chilled coupe glass. Garnish with dried coconut flakes.
After trying a few different coconut sorbets, I recommend Double Rainbow—it's the best!
In my opinion, the Mai Tai is the king of all tiki drinks. While I have been mixing up Mai Tais for years, it wasn't until I discovered the forgotten, original Trader Vic's recipe uncovered by Jeff "Beachbum" Berry that I became a rabid fan. Why? Because the original recipe is a superb blend of quality aged Jamaican and Martinique rums with just the right amount of natural sweetness. No need for pineapple juice and grenadine here! After struggling to find Martinique rums in Oregon, I noticed Clement V.S.O.P. rum from Martinique in one of our higher end liquor stores this year. And let me say that this is the best ever! And I confirmed my choice after reading a post on Mai Tais from RumDood, who is obviously an aficionado of rums (and the Mai Tai). After exhaustive testing of Mai Tai recipes by RumDood using a breadth of rums, it appears that the Appleton/Clément V.S.O.P. came out on top. So there you have it: the perfect Mai Tai recipe.
Mai Tai
1 oz Appleton Estate Extra rum (12 year)
1 oz Clement V.S.O.P. rum (Rhum Vieux Agricole)
1/2 oz Clement Creole Shrubb
1/2 oz Trader Tiki's orgeat syrup
1/4 oz rich simple syrup
3/4 oz lime juice
Fill a shaker with ice. Add the rums, Creole Shrubb, orgeat syrup, simple syrup and lime juice. Cap the shaker and shake vigorously for 15-20 seconds. Strain into a 12 oz double old fashioned glass filled with crushed ice. Garnish with a sprig of fresh mint (and an orchid if you have one).
A word about orgeat syrup: Orgeat (Or-zhä(t)) is a sweet syrup made from almonds, sugar and rose water or orange-flower water. While you can make your own (which looks daunting), I suggest purchasing a high-quality one from Trader Tiki's Hand-Crafted Exotic Syrups. Theirs is made from natural ingredients in small batches.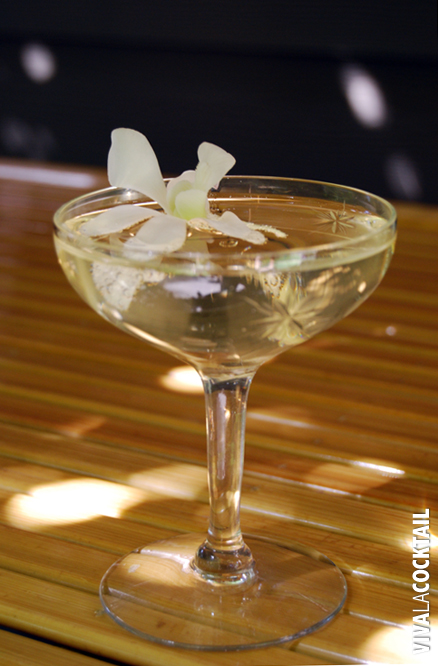 For me, nothing says summer like tropical drinks. The Caribbean Royale is a great starter for an outdoor tiki party. They are quick and easy to make and it's always nice to hand your guests a drink as soon as they arrive. Plus, it's a lighter style cocktail that helps get the palate warmed up.
Caribbean Royale
1/2 oz Flor de Cana Extra Dry white rum
1/2 oz BOLS Creme de Bananes liqueur
1 dash Fee Brothers orange bitters
3-5 oz chilled Prosecco
Pour the white rum, banana liqueur and orange bitters in a cocktail glass. Top off with the chilled Prosecco. Garnish with a white orchid.
Prosecco is an Italian dry sparkling wine and it mixes really well in cocktails. You don't need to buy expensive Champagne for mixed drinks. I almost always use Prosecco or Spanish Cava in cocktails when sparkling wine or Champagne is called for.