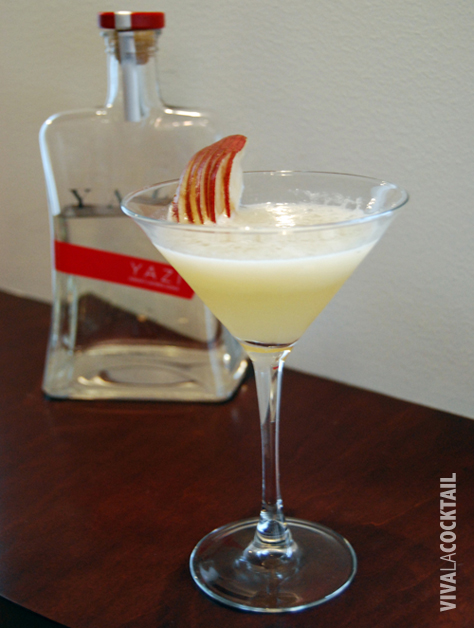 I was inspired to make this drink one day because I ran across a bottle of Yazi Ginger Vodka (made in Portland by Hood River Distillers) in the back of my liquor cabinet that I forgot I had bought a couple of years prior. I like the taste of ginger, but found this vodka to be pretty intense on its own (which is why it sat so long). So I started experimenting with other ingredients in my home bar to come up with a way to both complement the ginger flavor and to smooth out its spiciness. The result is a really drinkable cocktail that showcases the Yazi.
Asian Peartini
1 oz Yazi Ginger Vodka
1+1/2 oz Absolut Pears vodka
1/2 oz Harlequin Orange Liqueur
1/2 oz fresh lemon juice
1/2 oz fresh lime juice
1 oz simple syrup
1 tablespoon fresh pear puree
Fresh nutmeg
Fill a shaker with ice. Add the vodkas, orange liqueur, juices, simple syrup and pear puree. Cap the shaker and shake vigorously for 15-20 seconds. Strain (or double strain if you prefer a smoother cocktail) into a 10 oz chilled martini glass and garnish with a pear slice and a light dusting of fresh nutmeg.
Tip: You can substitute triple sec for the Harlequin, but I prefer Harlequin because of the richness of the cognac.