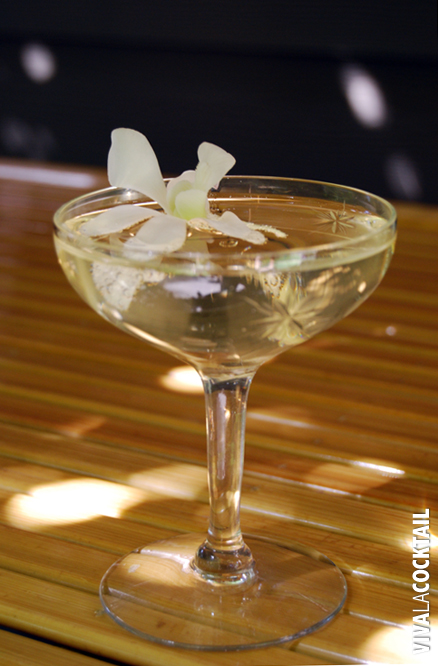 For me, nothing says summer like tropical drinks. The Caribbean Royale is a great starter for an outdoor tiki party. They are quick and easy to make and it's always nice to hand your guests a drink as soon as they arrive. Plus, it's a lighter style cocktail that helps get the palate warmed up.
Caribbean Royale
1/2 oz Flor de Cana Extra Dry white rum
1/2 oz BOLS Creme de Bananes liqueur
1 dash Fee Brothers orange bitters
3-5 oz chilled Prosecco
Pour the white rum, banana liqueur and orange bitters in a cocktail glass. Top off with the chilled Prosecco. Garnish with a white orchid.
Prosecco is an Italian dry sparkling wine and it mixes really well in cocktails. You don't need to buy expensive Champagne for mixed drinks. I almost always use Prosecco or Spanish Cava in cocktails when sparkling wine or Champagne is called for.
One of my favorite restaurants in Portland is Fenouil, and they have this fabulous drink on their menu called the L'Oranger. It's always reminds me of sitting outside on their patio overlooking Jameson Square on a warm (and dry) spring day. I was so taken with this cocktail that I swiped the menu (as I do) so I could recreate it at home. Here's my take on Fenouil's inspired drink.
L'Oranger
1 + 1/2 oz 12 Bridges Gin
1/2 oz orgeat syrup
1 oz fresh grapefruit juice
2 dashes Fee Brothers Orange Bitters
Ginger ale
Fill a shaker with ice. Add the gin, orgeat syrup, juice and bitters (but not the ginger ale). Cap the shaker and shake vigorously for 15-20 seconds. Strain into a 12 oz collins glass filled with ice. Top off with ginger ale. Garnish with an orange slice.
I like to use 12 Bridges Gin (which is made in Portland) because it's light on the juniper with notes of cucumber, melon and rose petals. I realize 12 Bridges is hard to get outside of Oregon, so you can substitute Hendricks Gin. I also recommend that you use fresh squeezed grapefruit juice and a craft brewed ginger ale like Thomas Kemper versus a mass-produced brand. But make sure you don't use ginger beer! Here's to spring.