I came across this variation of a Piña Colada in the July/August issue of Imbibe magazine. What I like about it is that the recipe uses coconut sorbet instead of the sticky-sweet cream of coconut, producing a drier and lighter cocktail. Just make sure you use a good quality white rum and fresh juice.
Sorbet in the Sun
2 oz Flor de Cana Extra Dry white rum (4 year)
1 oz fresh pineapple juice
1/2 oz fresh lime juice
1 (small) scoop softened coconut sorbet
Fill a shaker full of ice. Add the rum, pineapple juice, lime juice and coconut sorbet. Cap the shaker and shake vigorously for 15-20 seconds. Double strain into a chilled coupe glass. Garnish with dried coconut flakes.
After trying a few different coconut sorbets, I recommend Double Rainbow—it's the best!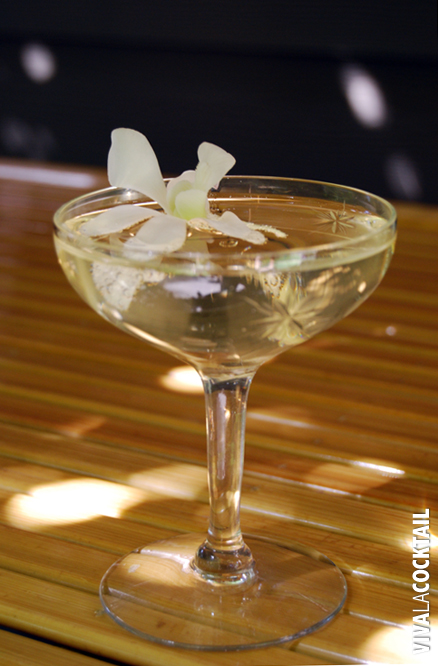 For me, nothing says summer like tropical drinks. The Caribbean Royale is a great starter for an outdoor tiki party. They are quick and easy to make and it's always nice to hand your guests a drink as soon as they arrive. Plus, it's a lighter style cocktail that helps get the palate warmed up.
Caribbean Royale
1/2 oz Flor de Cana Extra Dry white rum
1/2 oz BOLS Creme de Bananes liqueur
1 dash Fee Brothers orange bitters
3-5 oz chilled Prosecco
Pour the white rum, banana liqueur and orange bitters in a cocktail glass. Top off with the chilled Prosecco. Garnish with a white orchid.
Prosecco is an Italian dry sparkling wine and it mixes really well in cocktails. You don't need to buy expensive Champagne for mixed drinks. I almost always use Prosecco or Spanish Cava in cocktails when sparkling wine or Champagne is called for.